In our introductory article, we explored the emergence of a class of free people of color in antebellum New Orleans and briefly examined their ambiguous status in the burgeoning city. In the following articles, we will discuss the input of five individuals that will illuminate the impact this overlooked group had on the architectural development of New Orleans.
In this first installment of this series we will explore the life of a female developer, Marie Louise Rose, 'Rosette' Rochon, who was instrumental to the development of a predominantly Creole New Orleans neighborhood. Rosette Rochon was a free woman of color of French and Kaskian Illinois Native American descent. Rochon was born in 1767 in colonial Mobile. She was the daughter of Pierre Rochon, a shipbuilder from Quebec, and his mulatrass slave, Marianne. Rochon's father granted her freedom in 1770. When she came of age, Rochon entered a relationship with Monsieur Hardy and moved to St. Domingue (a colony in present-day Haiti). In 1797, she escaped to New Orleans where she became the placèe of two wealthy, white Creoles, Joseph Forstall and Charles Populus. These relationships produced children, Zelime Hardy, Rosalia Forstall and Joseph Doreston Forstall. Rochon's son, Joseph Forstall died in 1835 and Rochon had Paul Monsseaux, a highly sought after tomb designer, construct a marble tomb for him in St. Louis Cemetery No. 2. Monsseaux was a French native who moved to New Orleans as an adult and built many of the tombs designed by architect J.N.B dePouilly. Much of Monssxeaux's work can be found in St. Louis Cemetery No.2. Monsseaux mainly provided his services for French speakers in the upper echelon of New Orleans society. Rochon speculated in French Quarter real estate and by the time of her death in 1863, at the age of ninety-six, her estate was valued at about $100,000, which would equate to roughly $1,000,000 in inflation adjusted dollars. Rosette Rochon is entombed in St. Louis Cemetery No. 2 in the tomb she had built for her son.
Rochon was essential to the development of this city. She was one of the earliest investors and financiers in the Faubourg Marigny, purchasing a lot in May of 1806 from Bernard de Marigny. This was the same year de Marigny hired a surveyor to develop plans for subdividing his plantation into thirty foot by one hundred foot lots. The Faubourg Marigny, "was conceived and built up as a neighborhood that was primarily residential, with the usual corner commercial establishments" according to Roulhac Toledano on page 170 of his book "A Pattern Book of New Orleans Architecture." Bernard de Marigny showed preferential treatment to non-English speaking creoles, he "gladly sold lots in his subdivision to French-speakers, either whites or free blacks" unwittingly, "helping to create a traditional enclave of the New Orleans Creoles of color." Rochon owned and rented several properties including residences, slaves and a chain of grocery stores. She also had a Spanish permit to brand cattle in Opelousa and would ship cattle in order to supply the city meat markets. Although, Rochon had many properties and businesses, we will discuss one structure, which may be Rochon's only surviving edifice, a residence located at 1515 Pauger St. in the Faubourg Marigny.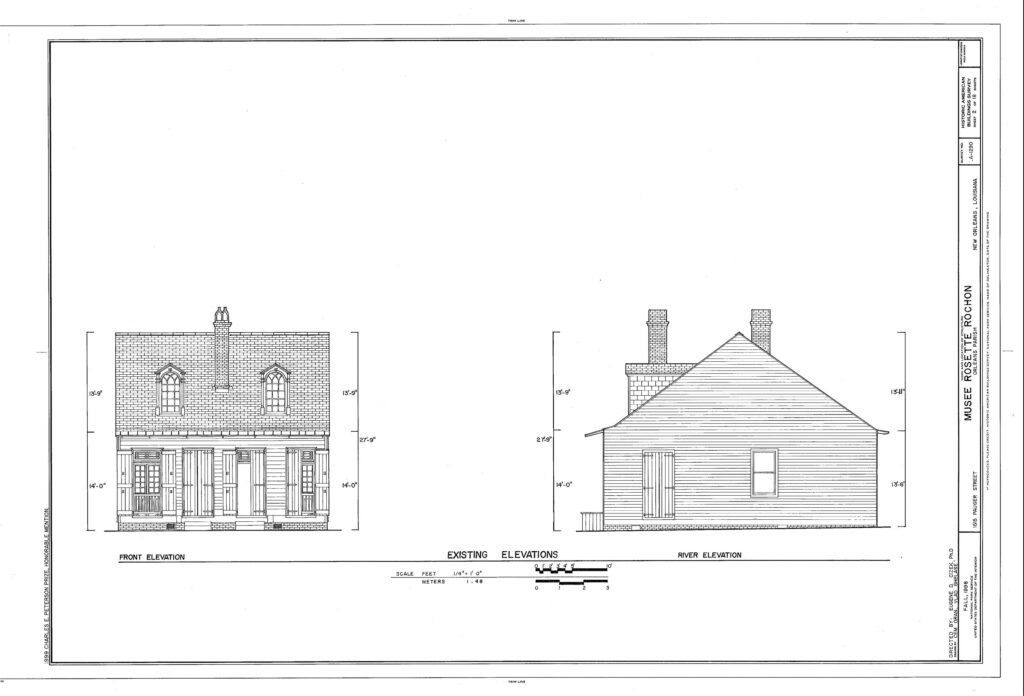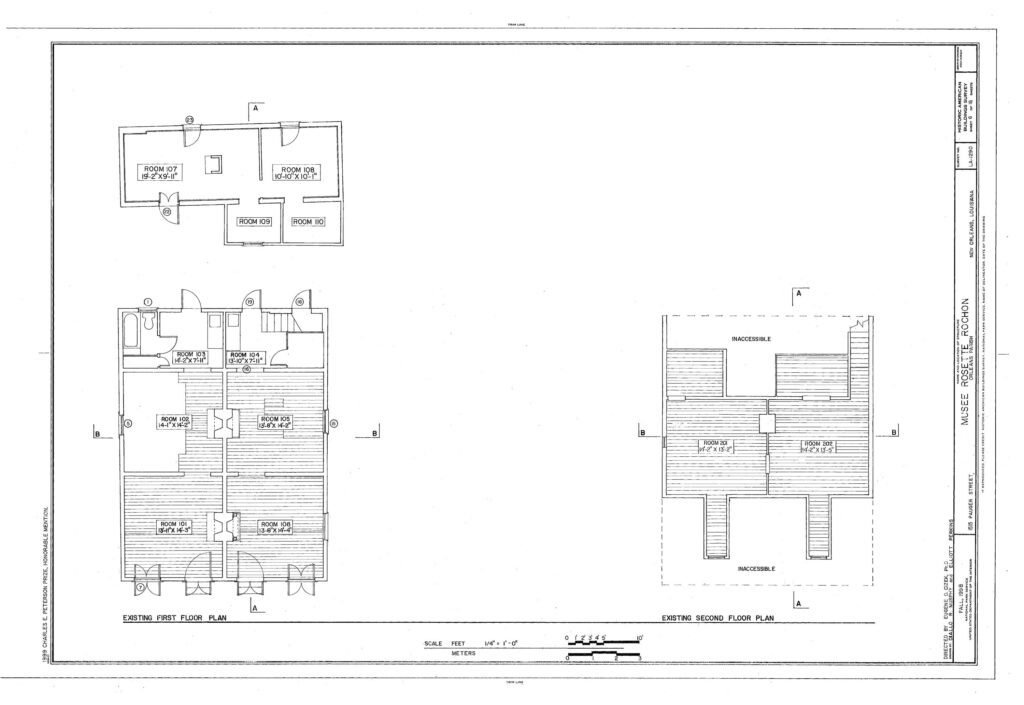 1515 Pauger, located on the corner of Dauphine and Burgundy, is a banquette, briquette-entre-poteaux (brick between post), Creole cottage built in the late 1820s, early 1830s. Banquette means that the structure opens out directly onto the sidewalk. According to a mortgage from 1841, Rochon built 'three houses, adjoining each other' on the land she purchased from Bernard de Marigny and lived in 1515 Pauger until she sold the property to her daughter, Zelime Hardy in 1855. Rochon remained in the neighborhood after the sale; listed as living at 30 Union (now Touro Street) in the 1860 directory. It is rumored that the Pauger cottage was constructed by Andre Martain LaMotte, a free person of color, who built other homes for her in the Faubourg Marigny and French Quarter.
This parcel consisted of two structures, a slightly elevated one-and-a-half story cottage in the front and an accessory service building, built on grade, in the rear. The four-bay cottage, clad in wood clapboard, epitomized the Creole cottage typology on the interior and exterior. The interior is simple. The front doors open into a three-room cottage, with two, almost square rooms arranged linearly in the front and a smaller service, utility room or cabinet in the rear. The layout on the right side is similar, with the exception of stairs leading to the story above and the door leading to the rear yard. The front façade features include two single leaf doors and two sets of French doors. The single leaf doors swing out to a two-step stoop, a traditional entry sequence for this area. Each of these openings are flanked by full- height, wood, vertical board- and- batten shutters. Some of the original shutters, door handles and moldings remain. The side gable, roof boasts two central chimneys, ridge tiles, an abat vent and two small dormers with fluted pilasters, keystone ornament and 6/6 windows with arched lites. The high-pitched mansard, roof allows for two dormered rooms on the second floor. These rooms are accessed by a stairway at the rear of the building. The smaller, unattached, service building was a single story, four room, 'L' shaped structure that housed the kitchen, laundry and additional bedrooms. 1515 Pauger passed through the hands of several well-known free people of color, including Thomy Lafon as well as Claiborne and Soniat-Dufossat families.
1515 Pauger was purchased by Don Richmond in 1977. Richmond lived in the property for several years before selling it and moving to San Francisco. When he returned to New Orleans in 1995, he purchased the property at a Sheriff's auction, paid off the liens and decided he wanted to celebrate the life of the original owner by converting Rochon's home into a museum dedicated to free people of color. He "envisioned the museum sponsoring craft demonstrations and lectures centered on the life of free people of color." In 2007, Richmond received a grant from the Historic Building Recovery Grant Program to repair damage from Katrina. He used this money to repair the shiplap siding, gutters, brick piers, doors, locks and windows. In 2014 Richmond died, leaving the furnished Musee Rochon to The Southern Food and Beverage Museum (SoFAB), a nonprofit dedicated to the history of food culture in the South. ("Preservation Resource Center of New Orleans." Preservation Resource Center of New Orleans. N.p., n.d. Web. 08 Dec. 2016.)
SoFab has expressed interest in realizing Don Richmond's dream of honoring Rosette Rochon, by continuing the historic restoration to 1515 Pauger. The nonprofit plans to use this "carefully restored artifact" as a residence for guests and scholars to "absorb the culinary history of the city".
Our next article will introduce Andre Martain Lamotte, the man who built several of Rochon's residences.
(Photo Credit: Stephen Bims)