Barge board has a special significance in New Orleans. The boards, usually undesirable, over-sized, roughhewn lumber, were reused from flat boats or barges that carried cargo down the Mississippi River to the port of New Orleans. There was no economical way to send the barges back up river, so they were disassembled and sold as cheap lumber. This affordable building stock found its way into many Creole cottages and shotgun houses built in the nineteenth century in New Orleans. What was once considered a less desirable form of wood has become a prized historic building material that brings character to many homes in neighborhoods such as the Marigny, Bywater, and Trem neighborhoods.
Barge board is a softwood, usually poplar or pine, about 2" thick and anywhere from 1'-0" to 2'-0" wide and can be over 20'-0" long. There are holes throughout boards to allow room for the rope that lashed them together. For single story construction, the boards are stacked vertically on a sill. A method similar to balloon framing is used for two story structures, with framing members extending the full height of the structure. Clapboard siding was often directly applied to the exterior of the boards. Historically, a common method for finishing the interior of barge board structures was the application of wallpaper directly to the interior face of the bargeboard with adhesive. A telltale sign of barge board construction are the window and door frames. Barge board walls do not need additional support and are typically 1.5"-2" thick compared to standard 4.5"- 6.5" walls, so window and door frames appear to jut out from the walls. Bargeboard represents a beautifully simple construction method that marries the historic legacy of the river with that of the built form, but it does raise issues when combined with modern construction methods.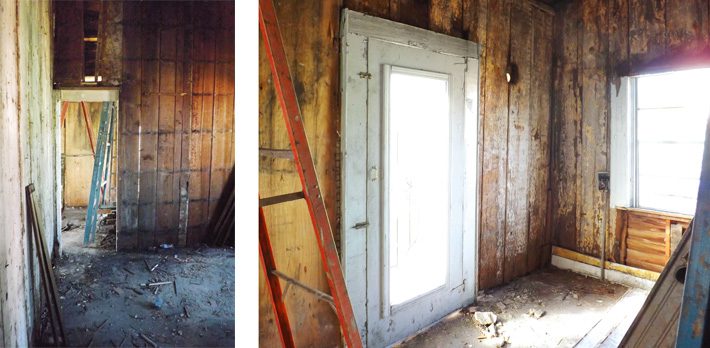 Because barge board is so strong, it replaces the need for standard 2 x 4 or 2 x 6 studs. However, barge board construction does not allow cavities for modern conveniences such as plumbing, wiring and insulation. If necessary, 2 x 4 studs can be added to provide the necessary space, straighten a barge board wall, or add additional support if the bottom of the boards are deteriorated. In the past, the interior of the bargeboard walls would be covered in wallpaper. Some prefer to remove the wallpaper and celebrate the primitive look of bare bargeboard. In this case, the wood can be wire brushed, and lightly sanded to bring out the grain and color; the wood is then sealed. For a less stark look, 2 x 2 batten or furring strips can be added to allow for interior and exterior sheathing. It is not uncommon to find barge board buried under layers of paint, wallpaper, and plaster. Home owners may choose to keep the barge board exposed on one or a few feature walls of their home, or use it as wainscoting, flooring or in other applications. Additionally, there has been a rise in craftspeople constructing furniture, art and accent pieces out of reclaimed barge board recycled from old buildings, such as the beautiful reclaimed barge board accent wall recently installed at Tooth & Nail Trading Co. pictured below.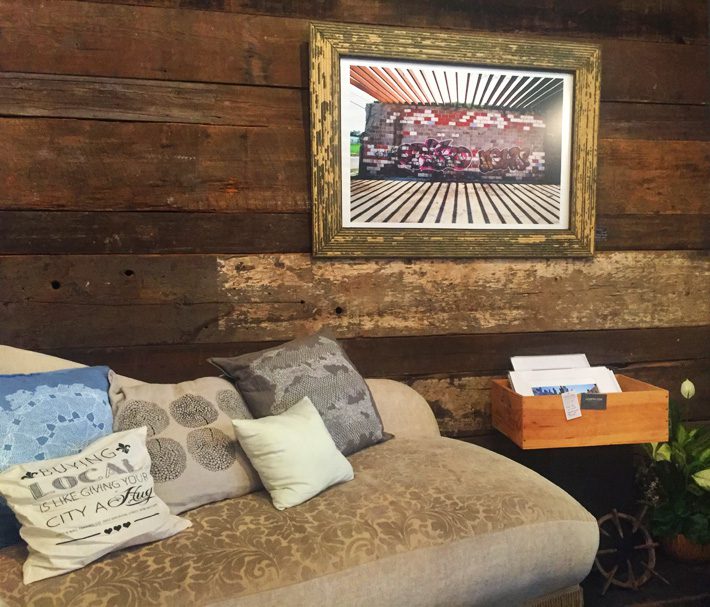 If you come across barge board in your historic home, you have discovered a piece of New Orleans riparian legacy, and have an assortment of options and opportunities to incorporate it in your home. For all exterior changes, be sure to check with the Historic District Landmarks Commission or Vieux Carr Commission, depending on your neighborhood. Although barge board is a sturdy material that has lasted over two hundred years, please do a thorough inspection and consult with a contractor regularly during renovation to identify any structural deficiencies and areas that may need repair.
See the following for more information:
Image credits: Photographs by Cassandra Gibbs and Scott Heath, used with permission.